Dr Ashish Bhanot, Founder Chairman of Aum Clinics is an Indian Surgeon well known for his work and research in Ano-Proctology and minimally invasive Surgery.He has largest series of complex recurrent fistula in ano surgeries in the world.His sincere efforts and his innovations in the surgery has helped thousands of patients who had lost all hopes to live normal life.


To meet Dr Ashish Bhanot you need to visit his clinic in Delhi. Dr Ashish Bhanot Clinic branches are spread to West Delhi Dwarka , South Delhi and Gurugram.

Dr Ashish Bhanot appointment can be taken by calling his team on mobile phone nos.
+91 9210000084
+91 9250000084
+91 9710000084
Dr Ashish Bhanot phone no is 9210000084.You can call or whatsapp on his mobile no any of his team member.

#drashishbhanot #aumclinics #drashishbhanot #ashishbhanot
#AumClinics #DrBhanot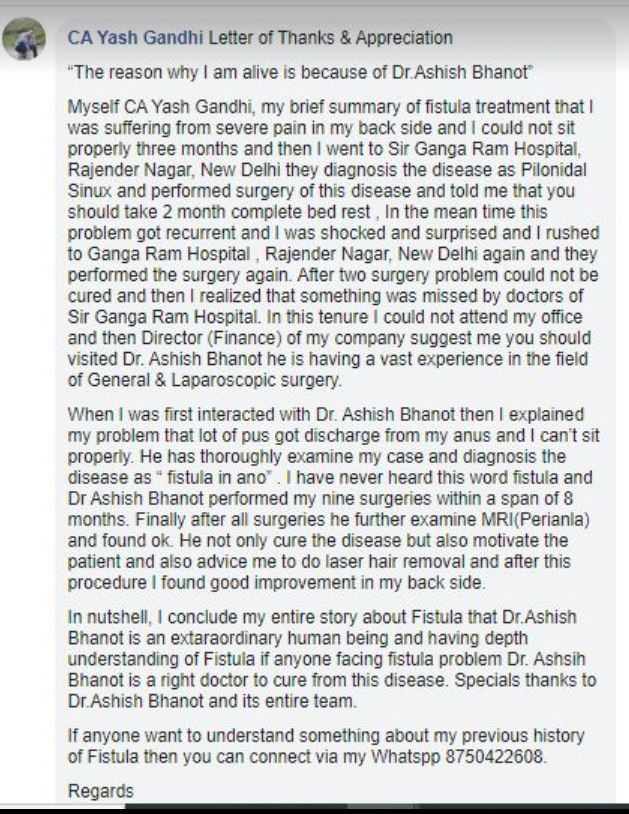 Piles Clinic near me in Gurugram Piles Treatment in Gurgaon – Laser Surgery
Gurgaon Piles Clinic is one Best provider of piles treatment through painless procedure, which is safe and affordable.
Our Centre provides Best treatment for Anal Fistula in Gurgaon – VAAFT, LIFT & Laser Surgery for Fistula in Ano
Anal Fissure treatment with Botox injections, Medicine & Laser Surgery in Gurgaon piles clinic helps to relieve you from pain of fissure very quickly.
We are also providing Best treatment for Pilonidal Sinus in the form of EPSiT, Excision & Laser Surgery for Pilonidal Sinus in Gurgaon near you.
To Book an appointment with the best piles surgeon in Gurgaon please call or WhatsApp us at 9630000084
#Piles_Treatment_Gurgaon
#drashishbhanot